The Cigar Life Guy daily cigar quote on social media has received a fantastic response since it debuted in 2019. If you haven't done so already, be sure to follow us on Twitter, Facebook, and Instagram.
Now, we're pleased to present you with the first 26 quotes in our carefully curated, four-part series — 101 of the best cigar quotes of all time. By the time you've read the full series, you will have journeyed from A to Z through the list. Or, in our case from Alfred to Zino.
Cigar Quotes for Every Smoker
There truly is something here for every smoker. We've created a purposefully diverse list of the best cigar quotes around. So, there's a little something for everyone. Some cigar quotes are deep.  Some are sad. Yet, others are funny. You'll find some delivered by fictional characters from the big or small screen. Some quotes are very old  – from long-dead figures whom you may have to Google.  Finally, others are iconic figures who require no introduction at all.
One theme, however, emerged more than others while we compiled this list. It came particularly from individuals reflecting on why they smoke. These quotes speak volumes about cigars offering relaxation, or a break, from the stresses of daily life.  The words used vary and reflect the diversity of the speakers.
Quotes for Our Sisters of the Leaf
Here's another note about the list (and this reflects some of the feedback from the series that has appeared on social media). Admittedly, some of these quotes are quite sexist. We made no attempt to change these quotes – words actually uttered by and attributed to historical figures. So, please consider the era (often many years ago) and the context (often meant as an attempt at humor) of each quote.  One of the things Cigar Life Guy and the entire cigar community pride themselves on is our inclusiveness.  We love our Sisters of the Leaf. Wherever a quote says "he," silently allow your mind to insert "cigar smoker" instead.
With no further ado, it's time to light up your favorite stick and ready a good beverage. Then, kick back and enjoy the first twenty-six best cigar quotes about our wonderful lifestyle.
#1 "You should hurry up and acquire the cigar habit. It's one of the major happinesses. And so much more lasting than love, so much less costly in emotional wear and tear." – Aldous Huxley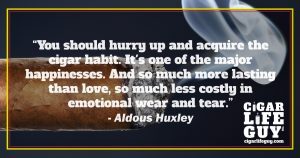 #2 "Any cigar smoker is a friend because I know how he feels." – Alfred de Musset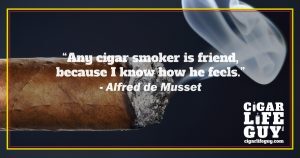 #3 "They had no good cigars there, my Lord; I left the place in disgust." – Alfred Lord Tennyson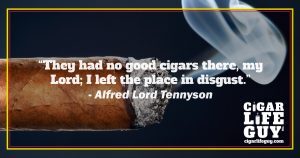 #4 "Of course it's a good cigar Edith, it came in its own test tube." – Archie Bunker (played by Carroll O'Connor)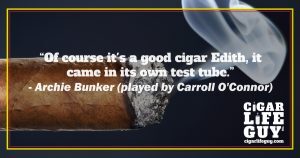 #5 "I'll use a cigar to pause before I jump to a conclusion." – Armand Assante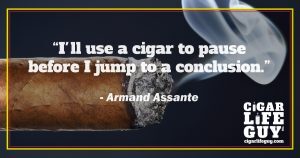 #6 "I smoke every day!" – Arturo Sandoval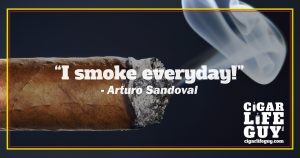 #7 "Close, Colonel, but no cigar!" – Barbara Stanwyck in "Annie Oakley"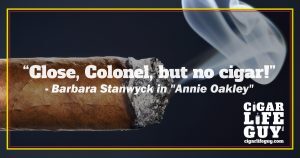 #8 "When I get a chance to play golf or go on a boat with good people, take the boat out and put some lobsters on the grill, get the ice-cold beer and the cigars – that's heaven here." – Bernie Mac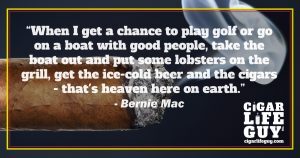 #9 "Everything looks nicer when you win. The girls are prettier. The cigars taste better. The trees are greener." – Billy Martin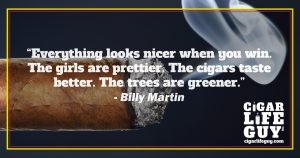 #10 "Cigarettes are a habit; cigars are an event." – Brad Paisley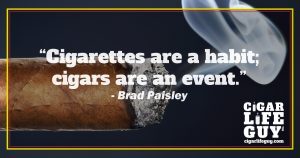 #11 "After a truly good meal, an outstanding cigar is still the most satisfying after-dinner activity that doesn't involve two human beings." – Brad Shaw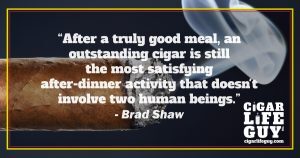 #12 "The cigar business is a passion, a way of life." – Carlos "Carlito" Fuente Jr.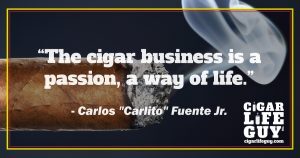 #13 "Any man who doesn't partake in cigar smoking is nothing more than a weak-willed, meandering oaf, and I would never put my lips to those of any creature, man or beast, whose lips were not fresh awash in the currents of cigar smoke." – Catherine the Great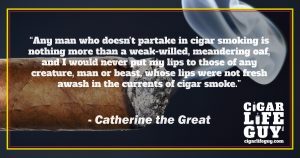 #14 "I only play golf to smoke cigars and drink." – Charles Barkley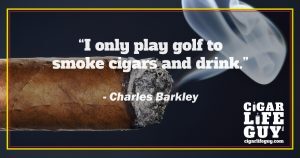 #15 "I like that smoking a cigar takes so long." – Chris Pratt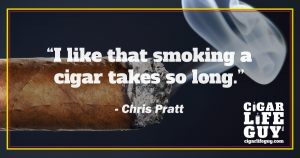 #16 "I have never met a cigar smoker who wasn't a man of quality." – Christophe Navarre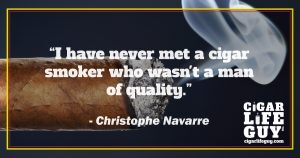 #17 "My favorite cigar is the one I'm smoking right now." – Dave Arlinghaus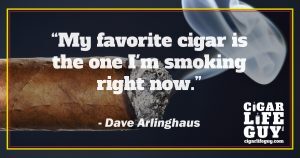 #18 "When I stopped smoking cigars it was the biggest mistake I made in my life." – David Letterman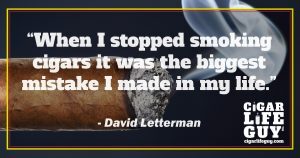 #19 "There's something about smoking a cigar that feels like a celebration. It's like a fine wine. There's a quality, workmanship, a passion that goes into the smoking of a fine cigar." – Demi Moore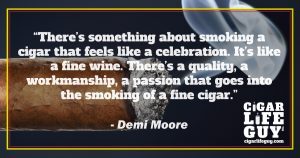 #20 "[Smoking a cigar] It's like taking a luxurious bath instead of a quick shower." – Denzel Washington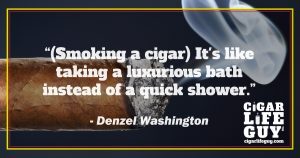 #21 "With a cigar like in life, you got to have some length, and some girth." – DL Hughley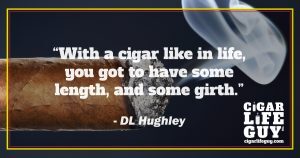 #22 "Life's too short to drink bad wine or smoke poor cigars." – Don Johnson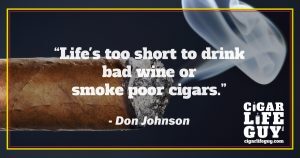 #23 "A good cigar is as great a comfort to a man as a good cry to a woman." – Edward Bulwer-Lytton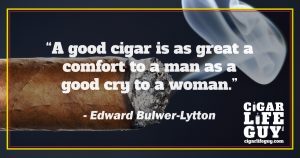 #24 "I spend a lot of time in the rough. So having that cigar kind of makes golf a little easier." – Emmitt Smith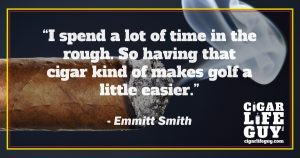 #25 "The most futile and disastrous day seems well spent when it is reviewed through the blue, fragrant smoke of a Havana Cigar." – Evelyn Waugh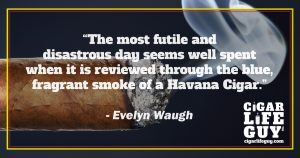 #26 "A good Cuban cigar closes the doors to the vulgarities of the world." – Frank Liszt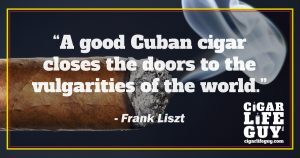 If you enjoyed reading this, then be sure to watch for parts two, three, and four as we continue our series of the best cigar quotes from A to Z.