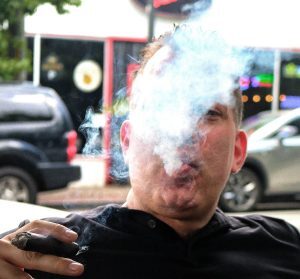 Searching for a cigar smokers life insurance policy at an affordable price takes time if you go it alone. That's why we're here to help you. Cigar Life Guy™ can step in and help you find the best life insurance quote fast. Give us a call today at 888-80CIGAR (888-802-4427) or fill out a life insurance quote form on our website. To get an idea of cost from the quote form for regular or daily cigar smokers (no other tobacco products) indicate non-tobacco on the form and select the standard rate class.
When you call Cigar Life Guy™, You'll speak with Dave or with a trusted colleague specifically trained to get you the best rates for cigar smokers.
Don't worry if you don't understand all the insurance jargon or know what kind of policy you're looking for. Cigar Life Guy™ will help you sort through all that and find you the best policy to meet your needs.
As it relates to your health and lifestyle, be very open about your history. Is there anything that you're being treated for or were being treated for? Are you taking any medications? Do you have any criminal or driver's license issues? Are you on disability or have you been on disability? Do you use tobacco products and, if so, what type and how often? Do you use prescription or recreational drugs (including marijuana)?
 Tip: Polices on marijuana are changing fast but becoming more lenient; the important part, like cigar use is full disclosure so you can be placed with the right company.
Tip: It's far better to be open and honest up front with full disclosure than applying with the wrong company and not getting the best offer possible.
Based on your conversation, Cigar Life Guy™ will share some potential rates or quotes with you.  These rates will incorporate the health and lifestyle information you provided. These quotes are not set in stone, but they are the best estimate for the offer you'll receive based on available information. You select the plan that you want to apply for and Cigar Life Guy™ will use some of the personal information that you provided to start your application. This entire conversation takes 10-15 minutes in most cases.
Depending on the plan and company you choose, your application process will typically work in one of two ways:
You get a phone call from the insurance company to go through your health and lifestyle, an email to sign your application electronically, and, if needed, someone will reach out to you to schedule an insurance exam
You get an email to sign your application electronically and someone will reach out to schedule your insurance exam. During the exam, the examiner will ask you all the health and lifestyle questions.
The basic insurance exam
They take a blood sample, a urine sample, physical measurements like height and weight, and a blood pressure reading. If you're older or applying for a lot of insurance, they may require some additional tests like an EKG. Don't worry about what you'll need or won't need. The examiner will know what's required and have everything necessary for the exam and tests. The exam company will work with you to schedule a convenient time to come to either your home or office.
Set yourself up for success
Follow the instructions the exam company gives you including fasting. Don't go crazy the night before or the morning of your exam. In other words, avoid excessive alcohol, a huge steak & eggs breakfast, etc. Get more helpful exam tips here.
If you are trying to get preferred or better rates for cigar smokers, avoid smoking for at least 10 days before your exam. That's how long it takes your body to rid itself of cotinine, the alkaloid found in tobacco products that serves as a biomarker on lab tests. Remember, if you're a regular or daily cigar smoker, this doesn't apply. You don't need to get the cotinine out of your system – the insurance company expects to see it.
Once the exam is complete and the application is reviewed, the insurance company may request your medical records, also known as the "Attending Physician's Statement".  Don't read anything into it – good or bad. If they are requested, it is at the life insurance company's effort and expense. You don't need to hunt them down.
Once the insurance company has everything they need and has analyzed it in their underwriting department, you'll receive an offer. If you like the company's offer, you accept it and make your first payment. Once your first payment has been received and accepted, your coverage is effective.
Which policy should you get?
If you're at the application stage and uncertain of what you want (a 20-year or 30-year policy or a $500,000 or $750,000 policy) you can make changes up to the time the policy becomes effective. Go ahead and apply for the higher amount, get through underwriting to get the process going, and make your final decision.
How long does the whole process take?
How long the application process takes depends on how fast you complete each step. If you put off getting the exam done, then nothing will happen to move things along. Medical records, when requested, take time and are outside of your control and the insurance company's control. However, Cigar Life Guy™ can help. Our back office team follows up two to three times per week with the medical facility in an effort to expedite some of the process.
Tip: A couple weeks is normal. If medical records are requested, a month or more may be normal as well. Sometimes the process is much quicker, but each situation varies.
What is the process summary?
Call 888-80CIGAR or fill out a life insurance quote request.
Have an initial conversation and start your application. Remember, be upfront about your health and what you smoke during that conversation!
Complete your exam and/or health and lifestyle interview.
Get an approval or "offer".
Make your first payment and the policy becomes active.
Finding the right cigar smokers life insurance doesn't have to be an endless labyrinth. Let Cigar Life Guy™ guide you.