Check out all the Cigar Life Guy Gear!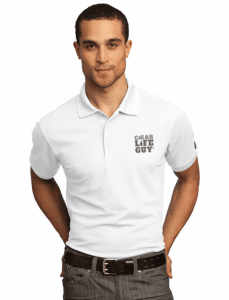 Hats, T-shirts, Polos, Jackets, Bags, Accessories and more! Warm weather to cold weather, we'll keep you looking great all year round in your Cigar Life Guy Gear!
How It Works
You shop online and the product is delivered right to your mailbox.  The product is fulfilled by a leading clothing decorator, Queensboro Shirt Company.  One of the wonderful things about Queensboro is in addition to excellent quality products, they have outstanding customer service.  Hopefully you won't have any issues with your order but if you do, they'll make it right.  That's the kind of people Cigar Life Guy and friends like!
Pro Tip: The online store is consistently running promotions (xx% off, etc.) and the current promotions are right on the home page of the store.  Make sure you take advantage of the promo codes and save yourself some money!
100% of Net Proceeds Go to Operation: Cigars for Warriors
Yes, you read that right! 100% of the profits from all merchandise sold go directly to Operation: Cigars for Warriors.  Queensboro retains an operating margin for managing the store, making the product and shipping it to you, as well they should.  But Cigar Life Guy, Dave Arlinghaus, and related entities get absolutely zero.  Not a penny.  Any profits that would have gone to Cigar Life Guy or Dave are donated to Cigars for Warriors.

Operation: Cigars for Warriors is driven by a single goal: to do our part to make our troops lives a little better.  CFW distributes requested items to troops deployed in combat zones. The organization celebrated shipping it's one millionth cigar (the #1 requested item) in 2019.  A 501(c)3 organization since 2012, Operation: Cigars for Warriors has a Platinum certification from GuideStar for financial transparency.
For more information about Cigars for Warriors, please visit www.cigarsforwarriors.org
Buy a shirt or a hat or a couple of both and know you're getting some great looking swag and helping our troops in combat zones enjoy a few cigars!
Oh and when you do get your great looking swag, make sure and take some pictures, share on social, and tag @cigarlifeguy or #cigarlifeguy!