Are you ready for the final part in our four-part series of top cigar quotes? We're taking you on a tour of cigar enthusiasts from Alfred to Zino. So, get ready for even more great cigar quotes.
If you're reading this, then, chances are you've already read the previous posts in our four-part series of the best cigar quotes ever. But, if you need to catch up, we'll drop the links below. For now, it's time to resume your journey.
Now, on to more cigar quotes. Coming to you from Cigar Life Guy™, here are the next 26 quotes we have lined up for you. In this finale, we're beginning with another literary approach on the leaf. We're starting you off with a great quote from American poet, Robert Frost. Then, we'll have you smoking through a fine quote from Zino Davidoff, himself. So, grab your stick, kick back, and read on.
And now, for the grand finale of our top cigar quotes
#1 "The difference between a man and his valet: they both smoke the same cigars, but only one pays for them." — Robert Frost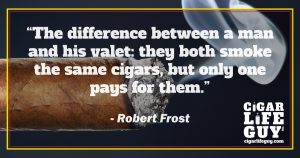 #2 "I would rather smoke one cigar than hear two sermons." — Robert Green Ingersoll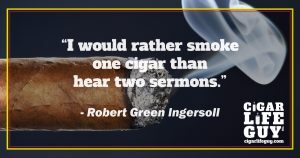 #3 "Lastly (and this is, perhaps, the golden rule), no woman should marry a man who does not smoke." — Robert Louis Stevenson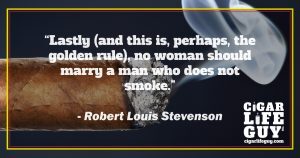 #4 "Some people meditate; I smoke cigars." — Ron Pearlman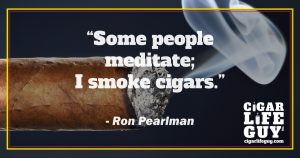 #5 "I've got a great cigar collection – it's actually not a collection, because that would imply I wasn't going to smoke every last one of 'em." — Ron White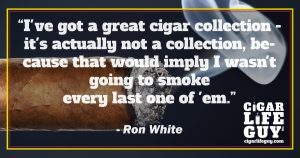 #6 "A woman is only a woman, but a good cigar is a smoke." — Rudyard Kipling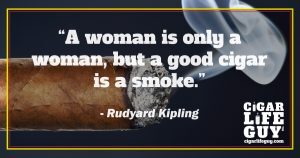 #7 "A woman is just a script, but a cigar is a motion picture." — Samuel Fuller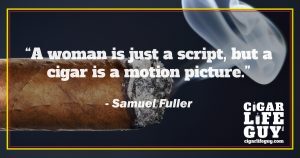 #8 "Cigars served me for precisely fifty years as protection and a weapon in the combat of life… I owe to the cigar a great intensification of my capacity to work and a facilitation of my self-control." — Sigmund Freud

#9 "My boy! Smoking is one of the greatest and cheapest enjoyments in life, and if you decide in advance not to smoke, I can only feel sorry for you." — Sigmund Freud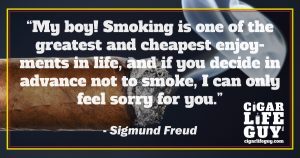 #10 "On a cold winter morning a cigar fortifies the soul." — Stendhal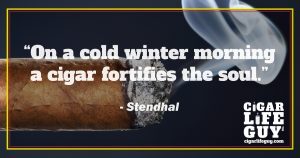 #11 "Sometimes a cigar is just a smoke and a coincidence is just a coincidence." — Stephen King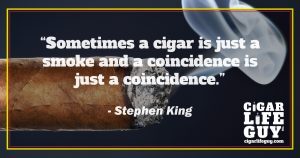 #12 "A handmade cigar is a rebellion against frenzy and insanity; it means supporting contemplation over rash impulse, and represents a civilized revolution." — Steve Worthington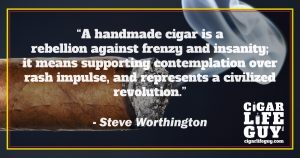 #13 "I believe that a good cigar, a glass of wine and a good conversation is as close to euphoria as you can get in a legal sense." — Sylvester Stallone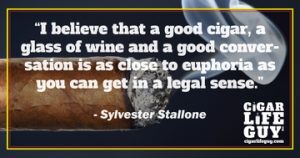 #14 "You better take advantage of the good cigars. You don't get much else in that job." — Thomas "Tip" O'Neill (referring to being Vice President)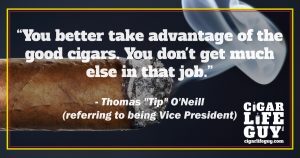 #15 "I never can understand how anyone can not smoke. It deprives a man of the best part of life. With a good cigar in his mouth, a man is perfectly safe, nothing can touch him, literally." — Thomas Mann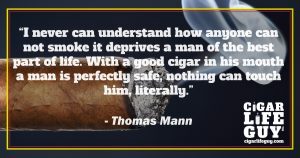 #16 "Break windows, smoke cigars, and stay up late. Tell 'em to do that, they'll find a little pot of gold." — Tom Waits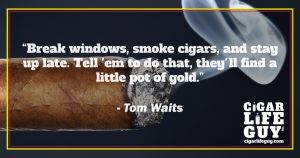 #17 "Cheap cigars come in handy; they stifle the odor of cheap politicians." — Ulysses S. Grant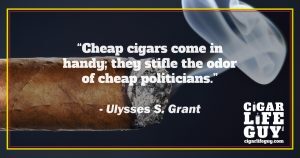 #18 "I'm too young to consider myself a connoisseur. I just enjoy smoking cigars." — Usher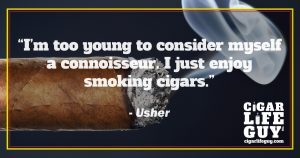 #19 "Tobacco is the plant that converts thoughts into dreams." — Victor Hugo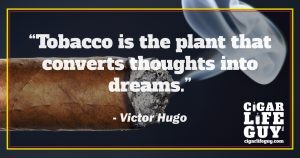 #20 "I never smoked a cigar in my life until I was nine." — W. C. Fields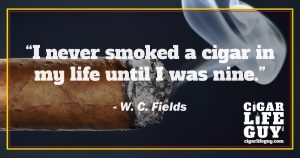 #21 "Our country has plenty of five-cent cigars, but the trouble is they charge fifteen cents for them.
" — Will Rogers
#22 "No cigar-smoker ever committed suicide." — William Maginn (1855)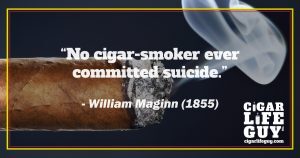 #23 "If your wife doesn't like the aroma of your cigar, change your wife." — Zino Davidoff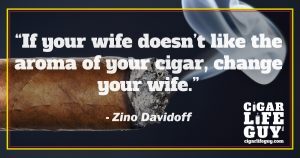 Bonus Top Cigar Quotes
Before we say good-bye, we couldn't resist throwing in a few extra top cigar quotes. So, we've curated a couple of Churchills. No, not the sticks. Although, we'd gladly smoke a couple of those with you, too. We're talking about their namesake — Winston Churchill, a man who was serious about his smokes. And, we love Zino so much, we had to throw in one more because … why not? So, here they are.
#24 "My rule of life prescribed as an absolutely sacred rite smoking cigars." — Winston Churchill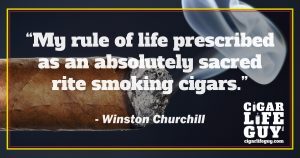 #25 "Smoking Cigars is like falling in love. First, you are attracted by its shape; you stay for its flavor, and you must always remember never, never to let the flame go out!" — Winston Churchill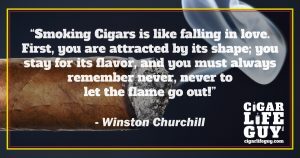 #26  "A cigar ought not to be smoked solely with the mouth, but with the hand, the eyes, and with the spirit." — Zino Davidoff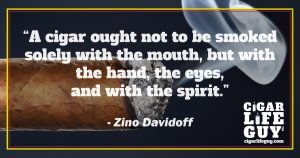 Well, there you have it. Finally, we have come to the end of our list —  the final part of our four-part series for your reading pleasure. We hope you enjoyed these top cigar quotes brought to you by Cigar Life Guy™ as much as we enjoyed bringing them to you. 
Want to look back at Our Cigar Quote Series?
Yes, this is the end. But, we don't want to leave you hanging in a trail of smoke if you haven't had a chance to read the first three parts of this series. So, if this is your first time reading our carefully curated quotes, be sure to check out our previous posts, which we happen to think are the best spoken words of men and women of the leaf. Here's a breakdown of what we covered.
Part One starts you off with Aldous Huxley. Huxley was an English writer best known for the dystopian novel, "Brave New World" back in 1932. But, the man also adored great smokes.
Part Two has you smoking with Frank Sinatra. And, rumor has it that Sinatra couldn't resist a good De Nobili. Smoke on and smoke well, Frank.
Finally, Part Three begins with Kelsey Grammer, who played Dr. Frasier on "Cheers." Grammar is known for his love of Davidoff sticks and we can't fault him for that because we don't know anyone who doesn't appreciate a good Davidoff now and then. From there, part three takes you all the way through to Rick Pitino, currently the head basketball coach for Iona College in New York. Rumor has it, Pitino favors the Partagas 150 Signature Series.
Got an idea in mind for something more you'd like to read about or see in our blog? Then, drop us a line! We love hearing from our fans and fellow cigar enthusiasts.