Are you ready for more famous cigar quotes? We hope you've enjoyed the first two parts in our four-part series of the best cigar quotes ever.  There are few things better than enjoying a great smoke and learning about the cigar lifestyle. So, it's time to continue our journey through our third installment of some of the best cigar quotes ever. And they're all carefully curated for your reading pleasure from the team here at Cigar Life Guy. So, you know you're getting the good stuff.
Now, if you're ready to continue your journey from Alfred to Zino, then grab your favorite stick and get ready for more cigar quotes. Here are the next 26 famous cigar quotes we couldn't resist including. This time, we're kicking it off with Kelsey Grammer as Dr. Frasier Crane from "Cheers." So, without further ado, it's time to light your favorite smoke and read on.
Famous Cigar Quotes, Take Three
#1 "There is nothing like a good cigar, and this is nothing like a good cigar." — Kelsey Grammer as "Dr. Fraiser Crane" on "Cheers"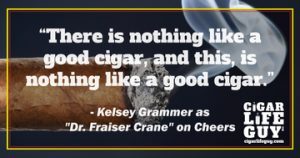 #2 "Gentlemen, you may smoke." — King Edward VII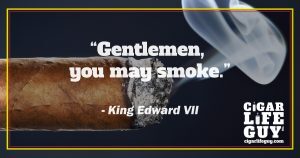 #3 "Throughout my life, cigars have played different roles for me. They fit easily and well in the various stages and experiences I've had — like a companion, almost. If you've smoked a long time, as I have, they become part of you." — LeRoy Neiman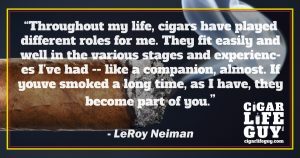 #4 "What is the difference between a $10 (cigar) and a $2 cigar? Eight bucks." — Lou Rothman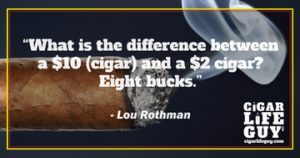 #5 "It has always been my rule never to smoke when asleep, and never to refrain when awake." — Mark Twain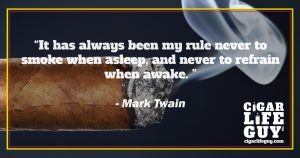 #6 "No one can tell me what is a good cigar for me. I am the only judge. People who claim to know, say that I smoke the worst cigars in the world. They bring their own cigars when they come to my house." — Mark Twain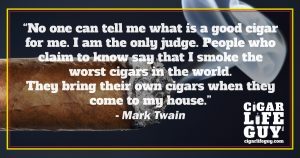 #7 "Eating and sleeping are the only activities that should be allowed to interrupt a man's enjoyment of his cigar." — Mark Twain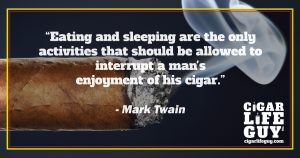 #8 "If heaven has no cigars, I shall not go there." — Mark Twain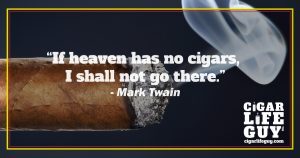 #9 "I have made it a rule never to smoke more than one cigar at a time." — Mark Twain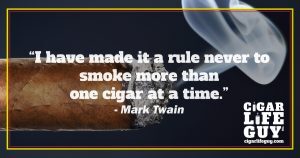 #10 "There's a ritual about smoking a cigar that slows my clock down." — Matthew McConaughey

#11 "No cigar or pipe smoking, except for Red Auerbach." — the menu at Legal Seafood in Boston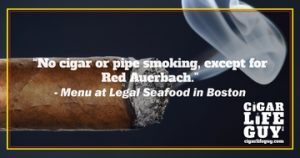 #12 "Cigar smoking by its very nature is much more reflective than interactive." — Michael Douglas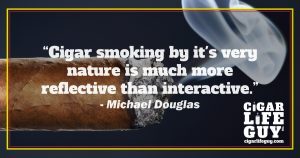 #13 "It is the most relaxing thing. Every time I get to a point where everything is coming at me, I would rather just sit back and smoke a cigar and relax." — Michael Jordan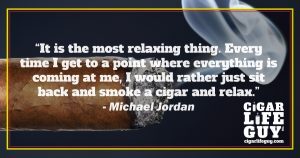 #14 "Well, grab a cigar, boys. Yeah. It's time to celebrate." — Michael Richards as "Kramer" on "Seinfeld"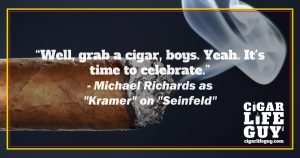 #15 "Cigars solicit conversation. You see someone smoking a cigar and you feel instantly closer to them." — Michael Stahan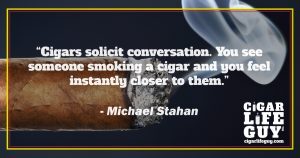 #16 "Tobacco is the passion of honest men and he who lives without tobacco is not worthy of living." — Moliere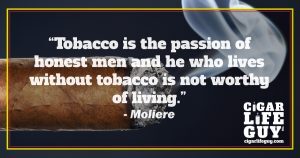 #17 "Cigars force me to slow down and live in the present." — Muata Onyemachi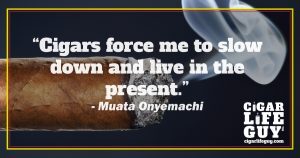 #18 "My favorite cigar is a free cigar." — Nelson Monteiro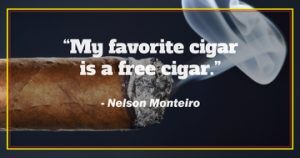 #19 "Right now, we are technologically stressed, and people want to take a break from that stress and reward themselves with a great cigar." — Nestor Andres Plascencia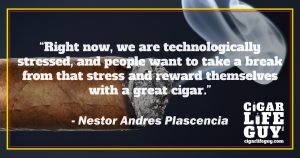 #20 "Personally, I believe a rocking hammock, a good cigar, and a tall gin-and-tonic is the way to save the planet." — P. J. O'Rourke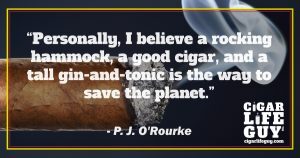 #21 "I'll smoke anything anybody gives me." — Peter Falk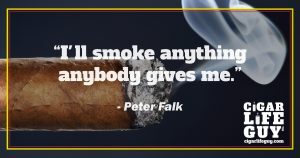 #22 "Puffing on a good cigar just slows everything down and allows me to relax." — Phil Jackson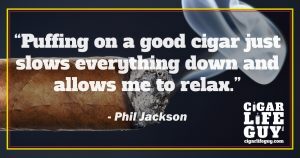 #23 "A cigar is as good as memories that you have when you smoked it." — Raul Julia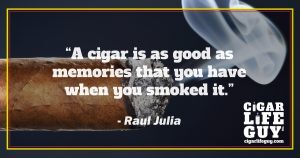 #24 "Why pay $100 on a therapy session when you can spend $25 on a cigar?" — Raul Julia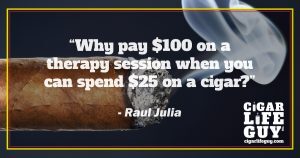 #25 "I am sure there are many things better than a good cigar, but right now, I can't think of what they might be." — Richard Carleton

#26 "Cigars are great tools for socializing and celebrating the good times. They also help you to reflect and relax during difficult ones." — Rick Pitino

Did You Miss Our Previous Quotes?
Before you go, have you had a chance to read parts one and two of our cigar quote series? If not, we promise these are not something you'll want to miss. So, we're linking the first two parts below in case you want to go back and check them out.
Part One starts you off with Aldous Huxley, an English writer, and author who also loved a great cigar. Then, we dive into Part Two to get you smoking with 'the man," the legendary entertainer extraordinaire, Frank Sinatra.
When you're ready for more, watch for our next and final post of this 101 of the best cigar quotes series. It'll keep you smoking and appreciating the span of cigar lifestyle from famous cigar enthusiasts long into the evening.