Each year, large cigar events are an integral part of the cigar culture. They give aficionados the opportunity to gather with hundreds and sometimes thousands of fellow cigar lovers for a day or a week to socialize over a few smokes. Additionally, they also combine cigars, food, drink, music, great scenery, and fellowship, creating "must do" events for many cigar enthusiasts across the country. For the third straight year, Cigar Life Guy™ plans on having a strong event presence with a table or booth and plenty of swag giveaways at many top events. It's time to get your calendar out and plan which of these top 2022 cigar events you will attend.
Cigar Life Guy: 2022 Cigar Events Schedule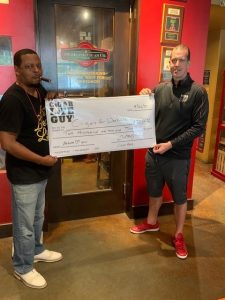 The last few years have brought a proliferation of large cigar events varying in size, scope, and theme. It is not practical to attend them all, so have a look at the carefully curated few events Cigar Life Guy will be a big part of:
January 26-28
Tobacco Plus Expo (TPE)
Las Vegas, NV*
February 16-20
Miami, FL
May 12-15
Charleston Smoke Out
Charleston, SC
May 24-29
Houston, TX
June 25

Cigar Life Guy 3rd Anniversary Party 
Atlanta, GA – Life N Times Cigar Lounge
July 8-12
Premium Cigar Association (PCA) Trade Show
Las Vegas, NV*
August 12-13

Boutique Cigar Festival – Smoke at the Creek
Martinsville, IN (near Indianapolis)
Labor Day Weekend (TBD) (CANCELLED)

Outside Dallas, TX
September 19-25
Atlanta, GA
November (TBD)
Cigar Mike Las Vegas Takeover
Las Vegas, NV
December 4

Tampa, FL
*Business-to-business events are not open to the general public. Cigar Life Guy will participate as a media member.
This schedule is subject to change. Questions can be directed to dave@cigarlifeguy.com.
What You Can Expect at Events
Check out the event website or social media listings for additional information and any changes in schedule. Some events are open to free public admission with no ticket or RSVP required. Others are ticketed – some with free tickets and others with a ticket charge. If you're interested in a ticketed event, act soon. Many events sell out in advance with no onsite sales available.
Legendary cigar personality Cigar Mike has dubbed Cigar Life Guy as "The Swag King" for the quality and creativity of the free branded items Cigar Life Guy gives out to event participants. So, expect plenty of energy and great swag from Cigar Life Guy.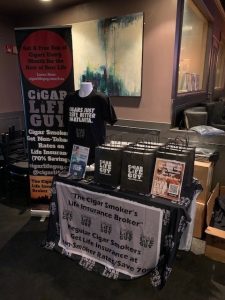 Seating availability varies by event. If you're concerned about getting a good seat, arrive early.
Do not confuse a VIP ticket with having a reserved seat or section unless your ticket is specifically sold as reserved seating. Many frustrated event attendees have made that mistake and ended up standing.
Cash is still king, so bring some. While most vendors accept credit cards, others might not. Also, cash may be the only form of payment accepted for your valet or parking lot.
Bring some cigars with you. You never know when you might need them. Depending on the event (particularly if at a lounge), good cigar etiquette may dictate that you patronize the house humidor. It is always good to support on-site cigar vendors.
You'll often find more relaxed restrictions on outside cigars, particularly if it is a paid event, so plan on bringing a few extra cigars with you for these, too.
You never know when the check-out line from the humidor is prohibitively long, or you want to gift something specific to a friend. Also, you might simply like to save a little money and smoke something you already paid for.
The Final Word
Finally, don't worry about rolling solo! One of the great things about the cigar culture is it is very friendly. It's also typically easy to strike up conversation with other aficionados, even if you aren't the outgoing type. You won't be the only one who didn't bring a crew with you, so come on out and make some new friends!
Make your plans now to hit some great 2022 cigar events! If you see Cigar Life Guy, stop by and say hi!
Photo credit: Cigar Life Guy