Cigar Life Guy was pleased to once again be a lead sponsor for Cigar Mike's Atlanta Cigar Experience in and around Atlanta, Georgia, September 20-26, 2021. Several hundred cigar enthusiasts from around the country and the world descended on Atlanta to mix with local smokers across at least fifteen venues throughout the week. We're going to break it all down to give you a taste of what the smoke was all about, and it begins with Cigar Mike Bennett. So, sit back, light up and read on.
"Cigar Mike" Bennett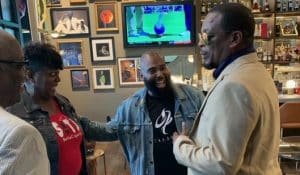 The weeklong series of events of the Atlanta Cigar Experience is the brainchild of twenty-five-year cigar industry veteran Mike Bennett. Yet, Bennett is affectionately known simply as "Cigar Mike." Bennett reflected on the week, "Atlanta is special to me since it's my hometown. I felt so much love seeing my friends — old and new, visit. I was just thrilled everyone had a great time again this year." Cigar Mike regularly hosts large gatherings of cigar lovers across the country. Notably, he will have his second annual "Cigar Mike Vegas Takeover" in Las Vegas, Nevada on November 4-7, 2021.
Up next, Black Smoke Magazine hosted its official release party to mark the publication's debut.
Black Smoke Magazine Release Party
Stanley's Cigar Lounge, a new lounge in town, was the lucky venue that held the most noteworthy party of the week. In fact, local entrepreneur and owner, Monica Coleman, opened the doors to this venue just this month. The event marked the official release for the inaugural issue of Black Smoke Magazine. Additionally, the debut cover featured Atlanta cigar icon Christine Morgan and BSM owner Kennedy Achille. You might also know Achille simply as "TK". Regardless, we've rounded up over 35 great images of this event and linked them here for your viewing pleasure.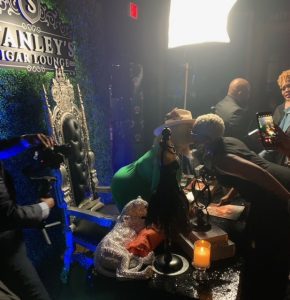 Besides Christine and TK, countless other industry personalities made the pilgrimage to Atlanta for the week's festivities as well. In fact, even the legendary Boston Jimmie joined the fun. So, make sure you check out his recap as well. Finally, there were also more cigar companies, brand owners, manufacturer representatives and store owners than you could count. So, if you've never been to the Atlanta Cigar Experience and you're going to be in the area next year, consider adding it to your calendar. Speaking of, let's dive into what the Atlanta Cigar Experience entails.
Atlanta Cigar Experience Featured Events
The event kickoff began on Monday at the Cigar City Club in Sandy Springs. The kickoff event is mostly for locals. Yet, the party brought together many shop owners and representatives, too. In fact, anyone in the area who could get away on a typically slow Monday showed up for the event.
Tuesday was day two and turned into a complete street takeover of Main Street in Lithonia. There were parties held indoors and outdoors at the local crowd favorite, Life N Times Cigar Lounge. The lounge offers a selection of coffee, wine and spirits, and favorite boutique cigars to patrons. So, stopping here for a smoke is always a must.
The prerelease announcement party for ATL Cigar Co.'s new line extension "Magic," arrived on day three of the event. That was on Wednesday, of course. The prerelease announcement was made at Atlantucky Brewery in Downtown, which is also a great place to grab a craft brew. The brewery also carries a local favorite you'll want to try: Kentucky Mudd chocolate milk stout.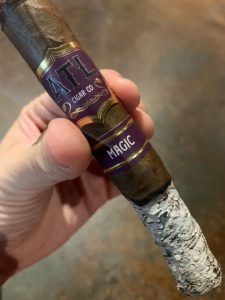 Thursday was day four of the Atlanta Cigar Experience. It also marked the day for the aforementioned Black Smoke Magazine Party in at Stanley's Cigar Lounge in South Fulton. So, everyone headed over to join the festivities and enjoy a good stick.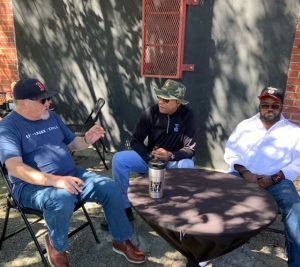 On Friday afternoon, we headed over to the Quick Shot gun range near Buckhead. Guests spent time on the range popping off a few rounds for fun. After that, there was a barbecue buffet featuring Barbeque & Smoke sauces and related items. It was enough to make your mouth water. After the wild afternoon on the range, everyone enjoyed an exquisite evening at the Davidoff of Geneva store in Buckhead. Unfortunately, if you didn't make it to the Atlanta Cigar Experience this year, you'll miss out on the Davidoff store in the future. The store is closing its Atlanta location at the end of the year and will be missed. Not to worry, though, there are still plenty of other venues to pique your interest and enjoy a good smoke and fellowship at.
Saturday started with a bang. There was a day party takeover at Cam Newton's Fellaship Lounge in Downtown. After that, event patrons enjoyed the evening at The Patio Social Club in Smyrna before wrapping up the sixth evening of the experience.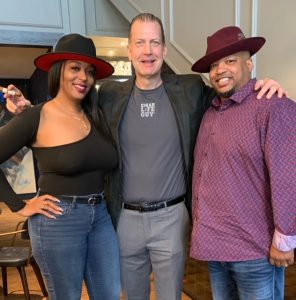 Sunday was the final day of the Atlanta Cigar Experience and with it came a finale any cigar enthusiast can appreciate. The finale was at King's Cigar Lounge and featured all the NFL games on big screens and more barbecue. King's is just a short Uber ride to the airport. So, cigar enthusiasts returning home can have a final smoke or three before catching their return flights.
Besides the featured evening parties, each afternoon of the Atlanta Cigar Experience included an organized "pop-up" event at a local shop or lounge. The pop-up events are a great way for cigar enthusiasts to mingle in a laid-back environment and check out a local cigar shop or lounge they've never visited.
Giving Back: Cigars for Warriors Fundraiser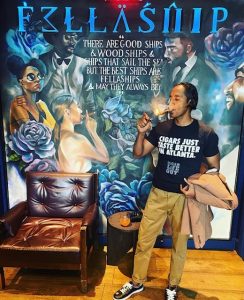 Giving back and providing opportunities for others to giveback is always a staple of Cigar Mike events. One example for this year was Cigar Life Guy's "Cigars Just Taste Better in Atlanta" T-shirt promotion. Atlanta Cigar Experience guests received a gift of a fun shirt showcasing Atlanta when they made a donation to Operation: Cigars for Warriors. Shirts were also available at retail partner Highland Cigar Co. and several pop-up events in the weeks leading up to the event. Cigars for Warriors is a 501 (c)(3) charity that has received over $2,000 donated so far. It uses these funds to send cigars to U.S. troops deployed overseas.
What Patrons Said About Atlanta Cigar Experience
When asked what they thought of the Atlanta Cigar Experience, guests had much to say.
"A.C.E. is an annual event for me. I enjoy seeing my extended cigar family. My [personal] quote is 'That's why you don't have no friends…we have family!!!' Thanks for the Family Reunion, Mike" – Kevin Watkins, Founder, Black Cigar Aficionados.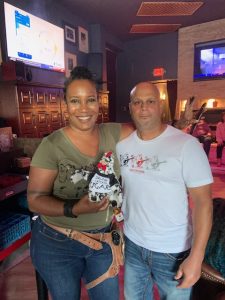 "The Atlanta Cigar Experience captured the true essence of what the cigar lifestyle is all about! As always, Cigar Mike was the ultimate ambassador to a great week of fellowship" – Reggie Kimble, Stickmen Blog.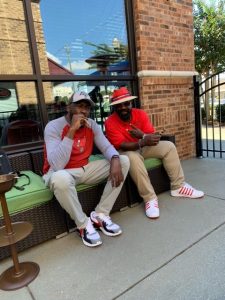 "The Atlanta Cigar Experience hosted by Cigar Mike, was a true celebration of the cigar lifestyle, the appreciation of cigar lounges and small business owners who are a part of the lifestyle. It was an honor for Barbeque and Smoke to be a part of an amazing week full of events. We look forward to working with Cigar Mike and his team in the future and are always glad to return to Atlanta, GA"  — Mac Bostic, Owner, Barbeque and Smoke.
"Atlanta Cigar Experience is an event I plan to never miss. Cigar Mike makes sure to create an experience like no other. I love the different vibes in the venues. I came last year for the first time knowing my Mom was gonna be gone when I got back. So it's also my getaway and how I celebrate her leaving this earth with fellowship and enjoying others in the cigar culture" — Calvin "King Hollywood" Jenkins, Owner of Luxe Cigar Lounge in South Carolina.
"You can always count on Cigar Mike to put on a great Atlanta Cigar Experience. I believe much of that is due to his passion for premium cigars and his love for his hometown. Our industry is fortunate to have someone like Mike Bennett"  — Eddie Tarazona, Owner, Tarazona Cigars.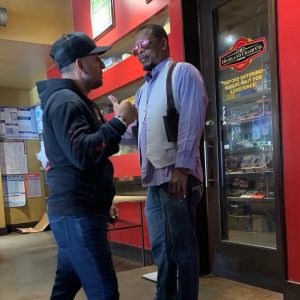 "The Cigar Mike experience is always really exciting. You never what you're going to experience and what to expect. Mike is an experience in his own way. Everything is always tailored to the people and for the people who travel from any distance to be there" – Akbar Alam, manager of Fellaship, an exclusive lounge and restaurant in Atlanta.
"Everywhere you went, you could see and feel Mike's advocacy for the industry and small business. Cigar Mike is good for both the cigar industry and culture" — Greg Willis, a partner of Emperors Cut Cigars.
"Cigar Mike has an amazing network of people that we were so excited to host at Stanley's. His connection to the pulse of the cigar community is unmatched"  — Monica Coleman, Owner, Stanley's Cigar Lounge.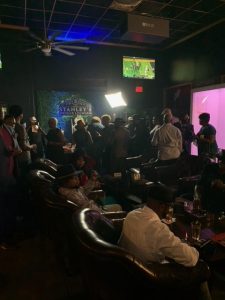 "Mike is the host of all hosts! The vibe and events were great" — Mr. SODO in Houston.
"Tuesday night was an amazing experience at Life N Times Cigar Lounge Block Party. Truly enjoyed all the cigar enthusiasts from all sides of the country come together to celebrate Atlanta Cigar Experience 2021, hosted by Cigar Mike. It was a true cigar event that featured vendors, bourbon, cigar sponsors, and music that honored the Atlanta cigar industry" – M.J. Smith, Owner of Life N Times Cigar & Coffee.
"My trip to Atlanta from New Jersey was truly worth it! Mike was a great host. It really was an Atlanta Cigar Mike Experience!" — Donnell Isaac, Silverback Cigar Crew.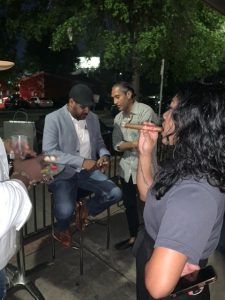 "There are days when I stand in awe of Cigar Mike. Though his schedule is often hectic, he is always seems to be in the moment, enjoying the company of whoever is in his presence. This ability is truly a remarkable skill, and I am honored to learn it from a great man" – Leroy Lamar, President, ATL Cigar Co.
That's a Wrap
The Atlanta Cigar Experience is an annual event, traditionally held the fourth week of September. Look for coming details about the 2022 Atlanta Cigar Experience event and then mark your calendar.
Photo credit: All images are credited to Cigar Life Guy except for Akbar Alam, which is credited to Instagram.com/aalam.