Yahya McClain (born John McClain in 1967) has crammed a whole lot of living into his slightly more than half a century walk on this earth. Yahya is a two-time boxing world champion – once as a light heavyweight and once as a cruiserweight.  Following his boxing career as a fighter, McClain trained and then later married Laila Ali, the daughter of arguably the greatest boxing world champion of all time, Muhammad Ali. Currently the CEO of YES Filmworks, Inc., McClain has spent the past three decades in the entertainment industry as a promoter, manager and producer. Many of his unfiltered escapades are chronicled in his 2013 autobiography "And Still: The Memoirography of Yahya McClain".
If you see McClain these days, it's usually with a lit cigar in his mouth. The guy just loves his cigars. Cigar Life Guy was able to catch up with McClain and chat a bit at Highland Cigar Co. in Atlanta where both hold memberships and tend to hold court most afternoons.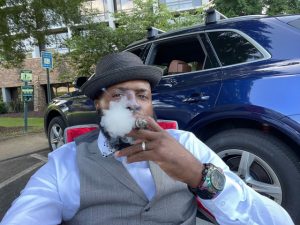 Boxing World Champion Yahya on Gratitude
Cigar Life Guy: Boxing has changed since you were coming up and so has the world.  Would you recommend a young person today box?
Yahya McCain: I would most definitely recommend boxing because of all the great things it has done for me. The lifestyle it has afforded me and my family. I've been all over the world because of boxing. Made millions of dollars and had all the toys. The discipline that boxing instills in a person can be useful throughout a person's entire life.
CLG: What advice would you give someone looking at getting started boxing?
YM: Find yourself a teacher of the art of boxing and not just a coach or some guy hollering at kids in the gym. Find someone that is passionate about what they do. When you do find that vetted, tested, and proven teacher; and if you are welcomed into his fold, please respect him, and listen to him. Do as he says and trust the process.
CLG: If you could change one thing in professional boxing what would it be?
YM: I would make it so that no matter who the fighter is or what race the fighter is if the guy loses a fight give him a rematch. Don't make him wait years. If that fighter gets in the ring, puts fans in the stands or has the fans that happen to see him fight and start screaming and yelling because of his or her performance, well then, that fighter should keep being showcased on the main stage. Win, lose or draw. Don't exile a fighter that loses a close fight.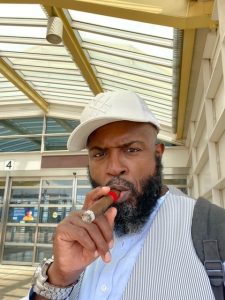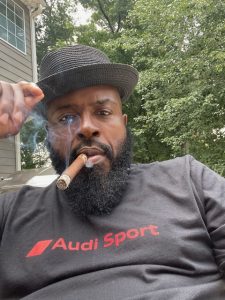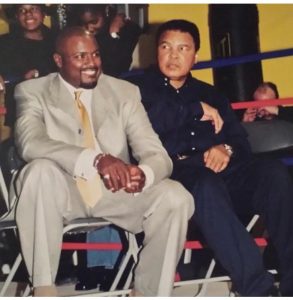 Muhammad Ali was a Genuine Man
CLG: You had a chance to know a side of Muhammad Ali that many did not. What are one or two things about Muhammad Ali the person that the public didn't get a chance to see?
YM:  First, he was always on 100 until the moment went to sleep. He loved and would entertain groups large or small. Second, his plan from the beginning of his career was to use his fame and celebrity to do his part in helping this world to be a better place for all human beings.
Cigars Offer a Connection to Family
CLG: When did you start smoking cigars?
YM:  I started smoking cigars for real in 1999 or 2000. It was when I retired. But prior to that my grandfather used to smoke cigars every day since I was a baby. He used to cut our hair and he always had a cigar hanging in his mouth and his breath stunk so bad. Who knew years later I would be an avid cigar smoker? He also played golf, he had a picture hanging in his barbershop of him and Joe Louis playing golf together with a cigar in his hand. Again, who knew? God had it to where he allowed me the opportunity to play golf with my grandfather and we smoked a cigar together before he died.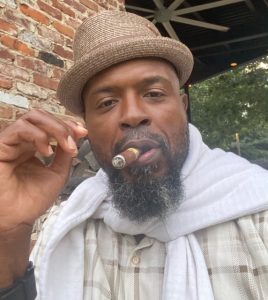 Cigars Make Traffic More Tolerable
The way that I really got hooked on cigars was due to that 405 freeway in Los Angeles. Man, the traffic is so bad and I had to commute from the Valley to LA Boxing gym to train Laila Ali. The gym was near the airport so I was done with that traffic. Then one day I said let me try to calm my nerves with this cigar. So I lit it up and smoked in my Benz for the first time and the next thing I knew I was at home. That's the day I became an official cigar aficionado. At that point I was hooked. Cigars are a part of who I am. I'm known for my hats, cigars, and boxing.
CLG: What do you enjoy most about smoking cigars?
YM: I love the way a cigar smells when it's being smoked especially if I'm smoking it. But I really love the calming cool sensation you get from it. The other big benefits are the lifestyle and the great people you get to meet and form relationships with, people from around the world!
CLG: What's one piece of advice you'd give to a friend or someone that is just starting to smoke cigars?
YM: My advice to new cigar smokers is start with a Perdomo or something along those lines and skip the chocolate, wine, and tasty cigars [Editor's note: skip the flavored cigars]. I mean at least try a real one first.
The Boxing World Champion is Not Done
CLG: What's next for "The Champ?" Any professional projects we should be looking out for soon?
YM: Related to boxing, I'm a ring announcer and a boxing referee. Outside of boxing I have several creative projects. I'm writing every day. I have a feature film about baby mama drama, and I have the first season of 10 episodes of a spin-off tv show written as well. Both the film and the tv series have a female lead that is fighting for fathers' rights!
You know, I am really enjoying life to the fullest these days. My wife, my kids, my whole family, my mom, my brothers, I mean I'm blessed. We are living the dream and staying out the way!
CLG: Thanks Yahya, some good stuff!
Follow Yahya McClain on Instagram at @thevoicechamp
Photo Credit: Yahya McClain