Over the last decade, one of the dominant trends in media has been the emergence of podcasts. These informative, sometimes entertaining digital audio files have grown in popularity. You'll find podcasts for nearly every niche, including cigar lifestyle. In fact, 9to5Mac's analysis of industry data suggests there are over 2.5 million podcasts out there, 720,000 of them with ten or more episodes (indicating some measure of staying power). So, if you're thinking about launching a cigar podcast of your own, then there are a few things to consider. We've interviewed Reggie Kimble of The Stickman Podcast for some great insider know-how.
Meet Reggie Kimble: The StickMen Podcast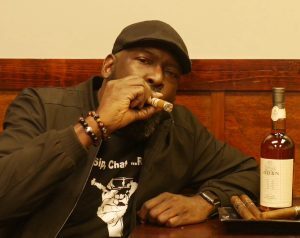 With literally millions of people "doing a podcast" joining them sounds easy and maybe even fun. Cigar Life Guy caught up with Reggie Kimble who runs the growing The StickMen Podcast. Kimble was kind enough to share some real-world learning about what's involved with launching a cigar podcast.  Spoiler alert: It's a lot of work.
Cigar Life Guy (CLG): Tell me about your podcast?  When did you start? Who's your target market/core audience member?
StickMen (SM): We launched on January 1st, 2020 targeting those who participate in the cigar lifestyle and enjoy a quality single malt or bourbon whiskey in the process. We began as an interview-style podcast. We focused on bringing the local (Atlanta) influencers in the cigar and whiskey community as guests.
CLG:  What motivated you to start the podcast?
SM: I've had a nice career in FinTech (Financial Technology).  Looking towards the future, I decided I would really love to do something that requires effort but doesn't feel like work. My initial vision was for this just to be a blog. Through the advice of others, I launched the podcast shortly after launching The StickMen blog. I quickly learned that many blogs are considered somewhat passe as a sole business and what I really needed to do was create a podcast and, for me, the cigar and whiskey lifestyle is a very visual one, so the decision was made to focus on YouTube as our primary platform and including video.
CLG:  How has the brand been received?
SM: The cigar lounge owners in Atlanta have been phenomenal in their support of what we are doing. They often give us great business suggestions that we put into action as well as making introductions to other lounges throughout the city. We believe the quality of our final production speaks for itself and does nothing but help promote the lounge and the personality of the lounge in a positive way. Also, our fellow SOTL and BOTL seem to really enjoy learning about the individuals who make the lifestyle go.
As we've evolved over the past year, we've added whiskey and cigar reviews with our own little twist. To help with the reviews, we added a new on-camera team member, Sean Simpson, aka StickMan SIMP to help deliver the reviews and participate in the occasional sessions with guests. Our approach is kind of "Reviews for Dummies." Obviously, we aren't "dummies" because we do know more about cigars than the average person but by no means are we experts and we want the conversation to resonate with our average viewer who also isn't an expert. We try not to take ourselves too seriously. We're just regular folks enjoying the cigar lifestyle. We are simply StickMen promoting other StickMen (and StickWomen) if you will.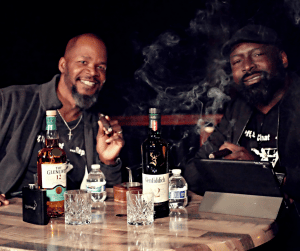 Behind-the-scenes of a Cigar Podcast
CLG: How do you promote your brand?
SM: We have promoted almost exclusively via Instagram and word of mouth in the local Atlanta market. StickMen isn't a household name and I'm not a celebrity so it's mostly guerilla marketing all the way for us, as we are learning that to build this type of business, being present is required.  I learned that I must become more of a night owl and network with fellow enthusiasts to better understand the type of content other enthusiasts want to see and what would resonate the most. I probably spend 3-4 nights per week on average in lounges promoting what we are doing on StickMen.
CLG: What are a couple of things you'd do differently if you were starting over?
SM: I would have a much healthier respect for how to properly promote your business via social media. I took a lot for granted there and just posted a bunch of stuff without a real strategy behind it. I had a great deal of activity without a defined purpose or structure and I would say that I am very much still figuring things out.  We've learned a lot and will continue to be flexible, evolving as our audience evolves. Having said all of that I would have spent more time learning the business side of podcasting. It truly impacts the content that you select. Had I done better homework upfront and I would have discovered that integrating the reviews into my strategy was a necessary step.
Hire Help with Cigar Podcast Production
CLG: What's the best advice you'd give to someone getting started or thinking about launching a cigar podcast?
SM:  Learn the business of podcasting first. Of course, you need to bring some passion and energy to the table for whatever your subject matter is but without knowing the business side, you will burn a ton of unproductive time.  Also, if you can afford to, outsource your video and audio editing. It is one of the most time-consuming aspects of podcasting and takes away from valuable time that you should be focused on building your business.  It's ok for the show to be produced by someone else and you sign off on all final content.  Do not try to do the work yourself! There are people who can do it better and faster!
New Content Every Week is Critical
CLG:  I imagine consistency is important?
SM:  You can't miss a week, period! Meaning you should establish your schedule and stick to it. Part of creating a podcast is that your audience must be able to "trust" that your content will be there when they want it. Once they become a fan and are vested in your content, nothing is more disappointing than to look for your show and it is not there. Also, that same consistency is what will attract new listeners/viewers. Posting an episode every now and then will tell people that you're not that serious about this, so why should they be?
CLG: What are several tactics that were particularly effective in promoting your podcast?
SM: Hiring help with video and audio production! Getting advice from other successful podcasters, who educated me on the business side of podcasting which led to a more strategic approach to how I marketing the show and finally being more present in the cigar and whiskey community. It wasn't enough to talk about it once per week on my podcast, I had to live it. Be more present and part of the lifestyle, which incidentally is not a problem at all. More puffing, more sipping, and more chatting with cool people??? Sign me up!
CLG:  Are there any things you or podcasters, in general, spend too much time worrying about that really isn't that important?
SM:  We spend too much time thinking about content that we "think" is good content vs. creating content that resonates with your audience. Of course, your content must be a reflection of your personality and how you perceive things but if it only interests you and no one else; it may be great self-therapy, but you probably don't have a business, you have a hobby.
Cigar Podcast Startup Costs Vary
CLG: What does someone need to get started? What kind of equipment do you need to produce a high-quality podcast with a video similar to your cigar podcast?
SM: Actually, you just need a decent camera. Yes, the phone camera can be good enough based on what you are trying to accomplish. There are some successful podcasters who do everything with an iPhone. To get a more polished look, however, investing in a decent DSLR Camera in the $550 – $700 range will do the trick. Of course, you can go much higher than that if you want something high end but it's not necessary. Also, my costs are a bit higher because I go on location for most of my videos. We usually film in a lounge or some remote location vs. an actual studio. So, I've had to invest in tools that help me be more mobile.
CLG:  Thanks, Reggie!
SM: I've enjoyed it!
Here's how to find The StickMen Podcast:
StickMen website – https://stickmen.blog
Youtube link – https://www.youtube.com/channel/UCkPJu3c06vRA38Qqfj2FEHg
IG link – https://www.instagram.com/thestickmenblog/?hl=en
Photo credit: Reggie Kimble