For centuries man has smoked cigars and for centuries he has also smoked meat. When did the two activities first get paired together? No one knows. One thing is certain, though: barbeque and cigars pair well. Many cigar smokers enjoy a good barbeque and many backyard barbeque fans enjoy a good cigar, even if they only smoke cigars occasionally.

Meet Barbeque & Smoke
Cigar Life Guy had a chance to meet up with a D.C. area Brother of the Leaf, Mac Bostic. Bostic and his partner Donnis Roberts are the founders of Barbeque & Smoke, a venture that combines barbeque-related items and cigars in a curated box that delivers to your home on a regular basis. Here is a bit of the conversation:
CLG:  What is Barbeque & Smoke?
B&S:  Barbeque & Smoke is a monthly subscription business developed for lovers of the leaf, barbeque specialists, and people who are always looking for a change or something different for their palate and senses.
CLG:  How did you decide to turn this into a business?
B&S:  We have had two distinct interests. Donnis is a wizard with sauces and rubs. I enjoy a variety of cigars. We both enjoy the fact that when people grill, they seem to find time to have a good smoke. Over time, after trying D's sauce and rubs, I asked if he thought about putting the items together. We talked about it and researched it. No other retailers provided this combination even though the items are consumed together frequently.
We tested our concept of cigars paired with barbeque-related treats with our friends and family and they received it well. Yvonne and Yvette Rodriguez, owners of Tres Lindas Cubanas were extremely helpful with us being able to launch our brand Barbeque & Smoke and release our initial box. Since then, we haven't looked back! We're blessed to continue moving forward under the mentorship of Yvonne and Yvette Rodriguez as well as Mike "Cigar Mike" Bennett.

Barbeque and Cigars in One Package
CLG:  What does the box of Barbeque and Smoke include?
B&S: The box has premium cigars, barbeque sauce, rub, chocolates, vegan cookies, scented candles, and a cigar poker. As a cigar guy, I knew cigars paired well with chocolates, so I found a chocolate maker who used 100% chocolate. The vegan cookies were just plain good so they went well, too.
CLG:  A big part of any subscription service is the curation. What's your approach to curation for the boxes in general and in particular the cigars you include?
B&S: The subscription contents change monthly so our family of customers gets to vary their senses of taste, touch, and smell every month. We made connections with many cigar companies from boutique brands to some of the larger companies. We also attempt to place five cigars of varying flavors and strength in each box. Finally, we include fantastic chocolate, different vegan cookies, and wonderful aromatic candles. Our master sauce maker custom designs the sauce and rub for each month. You will not receive anything like it anywhere on the market.
CLG:  What surprised you the most as you've launched Barbeque and Smoke?
B&S: We're thrilled with the way the cigar community came together. It has supported our product and provided information and products to enhance our subscription box. The cigar community is truly amazing. The relationships we have made thus far are also amazing. Yvonne Rodriguez and Cigar Mike mentored us, which was an honor. They kept us on the correct path during this journey.
Relaxation is Central to Barbeque and Cigars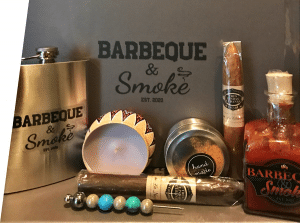 CLG:  Why do barbequing and smoking cigars go so well together?
B&S: There is a relaxation that you find when you are barbequing and the soft scent of smoke wafts across your nose. Most barbeque chefs work hard over the smoker or grill and take in the aroma and flavors of the meat. Once they finish their labor, they want to relax from their hard work, not just sit down and eat. The best thing to do is have a good smoke. Some even add a favorite adult beverage. Cigar smoking is a relaxing event that you can share. While the grills and smokers are cooling off, the cook can cool down as well.
CLG:  I know this a loaded, final question but what's your favorite type of barbeque?
B&S:  I'm a beef guy! Give me beef ribs, brisket, and steaks. My partner Donnis is more of a chicken and beef ribs guy.
There you have it. Barbeque and cigars do make a great pair and provide for a good, relaxing time. It's one more reason to fire up the grill and grab your favorite stick.
If you're interested in learning more about Barbeque & Smoke, you can check them out here:
Disclaimer: From time-to-time Cigar Life Guy will highlight innovative businesses in the cigar community because they may be of interest to the CLG reader. This is not an advertisement. Cigar Life Guy receives no compensation from the sale of any B&S products. Cigar Life Guy is not responsible for any items ordered from B&S.
Photo credit: Barbeque & Smoke